The distinguished publishing house Walter de Gruyter publishes the series Sozomena: Studies in the Re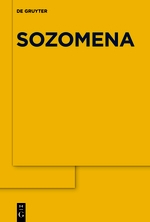 covery of Ancient Texts on behalf of the Society. The series editors are Alessandro Barchiesi, Robert Fowler, Lucia Prauscello and Nigel Wilson. 
The primary intention of the series is to edit and interpret texts, but methods of recovery and presentation will also be discussed, so that different types of books will be published: editions of texts, commentaries, monographs and collections. The main language is English, together with German and Italian. Scholars with manuscripts or book proposals are welcome to contact the Society to explore possibilities of publication. Twenty volumes have so far been published:
Davide Amendola, The Demades Papyrus (P.Berol. inv. 10345). A New Text with Commentary (2022).
Margarita Alexandrou, Chris Carey, Giovan Battista D'Alessio (edd.), Song Regained. Working with Greek Poetic Fragments (2022)
Marco Perale, Adespota Papyracea Hexametra Graeca I. Hexameters of Unknown or Uncertain Authorship from Graeco-Roman Egypt (2020)
Kilian Fleischer, The Original Verses of Apollodorus' Chronica (2020)
Jordi Pàmias (ed.), Apollodoriana. Ancient Myths, New Crossroads (2017)
Nikoletta Kanavou, The Names of Homeric Heroes. Problems and Interpretations (2015)
David Sider, Dirk Obbink (edd.), Doctrine and Doxography. Studies on Heraclitus and Pythagoras (2013)
Claire Louise Wilkinson, The Lyric of Ibycus (2012)
Francesco Montarese, Lucretius and his Sources (2012)
Miguel Herrero de Jáuregui et al. (edd.), Tracing Orpheus. Studies of Orphic Fragments (2011)
Laura Gawlinski, The Sacred Law of Andania (2011)
Nikoletta Kanavou, Aristophanes' Comedy of Names (2010)
Migeul Herrero de Jáuregui, Orphism and Christianity in Late Antiquity (2010)
Zacharoula Petraki, The Poetics of Philosophical Language (2011)
Mantha Zarmakoupi (ed.), The Villa of the Papyri at Herculaneum (2010)
Anna A. Novokhatko, The Invectives of Sallust and Cicero (2009)
Henry Dyson, Prolepsis and Ennoia in the Early Stoa (2009)
Francesca Schironi, From Alexandria to Babylon (2009)
Benjamin W. Fortson, Language and Rhythm in Plautus (2008)
Laura Miguélez Cavero, Poems in Context (2008)
For further information on the series click here.