Why should you go to Herculaneum?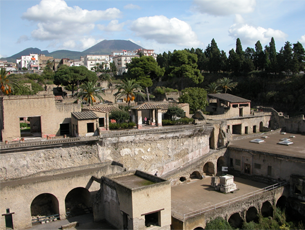 Herculaneum was a peaceful seaside town which was struck by a succession of pyroclastic flows during the eruption of Vesuvius in AD 79. It was then covered with 20 metres of volcanic mud. Approximately one third of the town has been excavated. It is notable for the high standard of preservation of the houses and the public baths as well as perishable material such as wood, textiles and papyri. A significant number of high quality painted walls may be seen. The Roman sea shore has been exposed during the excavations and a Roman boat has been preserved in a special museum.
The Herculaneum Conservation Project has completed much commendable work on the preservation of the buildings and paintings within the town.
The Soprintendenza kindly provides both a map and a guide to Herculaneum. 
How to get there
Use the Circumvesuviana train service to go to the station named Ercolano Scavi.
Leaving the Station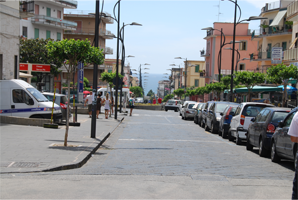 On leaving the station you will find yourself in a small car filled piazza. The exit is diagonally towards your right. Beyond this exit there is a roundabout with a fountain and a broad road descends downhill, towards the sea, for about 200 metres. It ends at a T-junction. Proceed to the T-junction. Beyond the T-junction, immediately opposite the road that you have descended, is a large white gateway, proceed through the gateway to the excavations. The ticket office is approximately 100 metres beyond the white gateway. Basic maps and guides are available at the ticket office. There is also a bookshop within the site.
Travellers by car should locate the car park for the site which is to the south of the archeological site.
A summary of the train services is available.
Last travelled
The author last completed the journey described in September 2016.