A. Visits to Herculaneum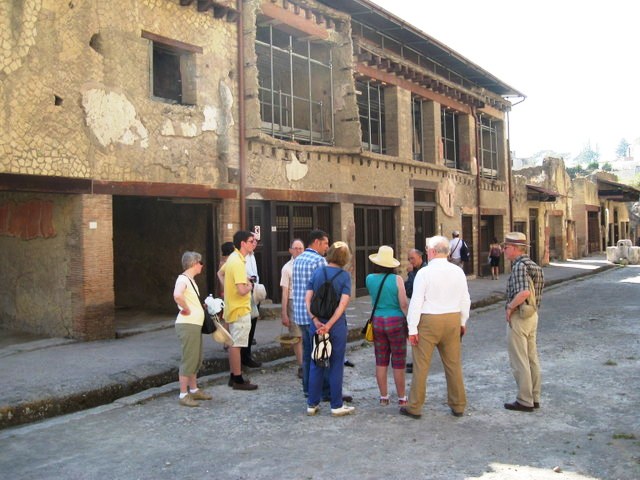 The Society's members are offered a cost-effective opportunity to travel to Herculaneum every two years where they enjoy behind-the-scenes tours and talks by experts involved in the current education, research and conservation projects at the site.
B. Visits to other institutions
Members also visit other institutions and organisations with related programmes, such as the Museum of London and the London Archaeological Archive and Research Centre.
Highlights included a visit to the Roman amphitheatre below the current Guildhall Art Gallery; a presentation by the Head of Human Bioarchaeology about the 1700 skeletons which is radically changing ideas about Roman Londoners; a preview of the Drapers Hoard of 22 bronze vessels found some two years ago during excavations and not yet on display; and a tour to the LAARC to hear about the largest archaeological archive in Europe.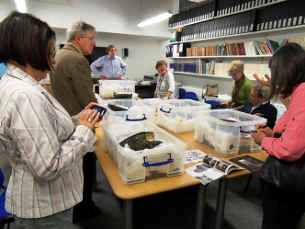 C. AGM
Each autumn (October or November), the Society holds its AGM. Besides the business meeting, this is an occasion for a social evening as well as presentations from notable scholars. Speakers at Society's AGM have included Prof. Bert Smith (2018), Lincoln Professor of Classical Archaeology and Art, Oxford, on 'The image and cult of Antinous, AD 130-138'; Dr Roger Tomlin (2017), Wolfson College, Oxford, on 'Roman London's First Voices: new writing-tablets from Roman Britain'; Dr Quintin Colville (2016), Curator of Naval History, National Maritime Museum, Greenwich, on 'Emma Hamilton: Seduction and Celebrity', the exhibition curated by him (including tour); Alison Pollard (2015), Ashmolean Museum, guided tour of the newly refurbished Arundel Collection, and a visit behind the scenes; Dr Kathryn Piquette (2014), University of Cologne Centre for eHumanities, on 'New Advanced Digital Imaging of the Herculaneum Papyri: Recent results, future plans'; Dr Paul Roberts (2013), Curator of Greek and Roman Antiquities at the British Museum, speaking on the challenges and rewards of mounting the hugely successful BM exhibition 'Life and Death in Pompeii and Herculaneum'; Prof. Oliver Primavesi (2012) of the University of Munich speaking on the great art historian Johann Joachim Winckelmann; celebrated novelist Lindsey Davis (2011) talking about her forthcoming book; Dr Janet Delaine (2010) of the University of Oxford whose presentation was titled "Ad summas tegulas: high-rise living in imperial Rome"; Mr Peter Spital (2009) who spoke on "Digital Reconstruction of the House of the Wooden Partition"; and Professor Mark Robinson (2009) Oxford University Museum of Natural History who discussed "Excavating the Ancient Sewers of Herculaneum".